Senographe Essential
Overview 
This is a full-field digital mammography unit that delivers clinical confidence to healthcare providers during breast procedures. The machine activities range from mobile screening to advanced diagnostic procedures. GE digital mamo machine facilitates an interactive approach to mammography during procedures to ensure top-notch innovative patient experiences. A woman's health needs attention to detail and a radiologist using the GE Senographe is able to deliver clinical confidence using this machine. Why so? Because the mammographic findings contribute to outstanding image quality which builds the confidence of the patient. 
Another thing is that GE Healthcare's flagship digital mammography machine can be upgraded and this creates room for advancement of applications. This feature is a great option for the doctor who finds flexibility in which expands the performance. And not forgetting to mention that it is a great investment with a high return on investment because breast cancer has become a major issue in this generation and most women are always visiting the hospital for a check-up. The system was manufactured in 2010 and delivers clinical confidence to women.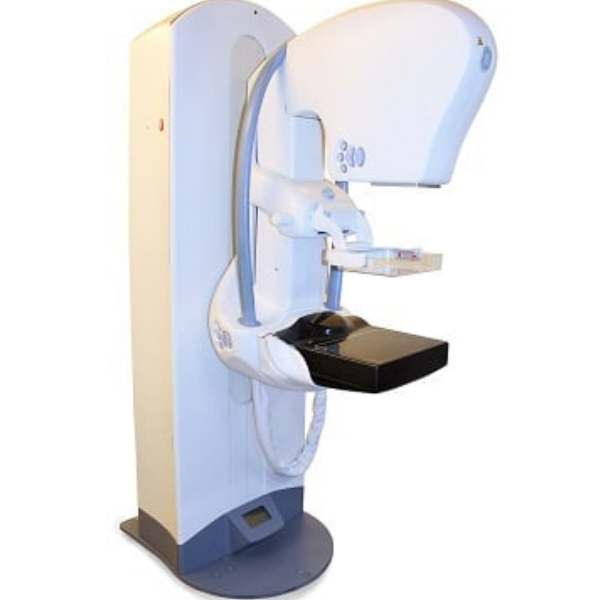 Features;
High frequency single-phase power supply

High frequency generator and conditioner

Automati exposure

24x31cm Detector

24x31 Bucky  with grid

Standard paddle set

Phantom

Gantry

Backup software

Face shield

X-ray tube

DICOM
Advantages of GE Senographe Essential 
The GE Healthcare's Senographe mammogram machine offers high-quality images and efficient workflow.
Has a larger detector

Stereotactic capabilities

Gantry rotation controls 

Extended care with one platform

Excellent reliability 

High throughput
Advanced Applications
SenoClaire 3D breast tomosynthesis is a three-dimensional imaging technology that uses a low-dose short x-ray sweep around the compressed breast with only nine exposures.
SenoBright comes with an intravenous injection of iodine. It highlights areas of unusual blood flow patterns that happen due to increased suspicion.
Stereotaxy application provides very accurate access to the breast lesion and optimal patient positioning. This system enables an easy switch from a full-field digital mammogram to a stereotactic biopsy mode.
 SensorySuite is an interactive experience that stimulates the senses and distracts patients from any pain or discomfort.
Conclusion
The GE Senographe Mammo Machine allows you to perform a vast number of breast procedures and helps you deliver high-quality care. It comes as refurbished, used, or a brand new one depending on your budget.
Reference Library
https://www.gehealthcare.com.au/en/products/categories/mammography/senographe_essential  
https://www.blockimaging.com/equipment/mammography/ge-digital-senographe-essential-mammography 
https://info.blockimaging.com/bid/90398/features-of-the-ge-senographe-essential-digital-mammography-system 
http://africa.gehealthcare.com/en/products/categories/mammography/mammography_systems/senographe_essential#tabs/tabA2C039D831B94A38996F26BBA52DEBF0