Orthoses, Splints, and Braces.
Recently, there has been a transition in terminology used by payers and policymakers under the Hand Therapy Catalog and a few changes have been made in
 regards to the concepts used by both physical and occupational therapists. In the past, a splint, brace and wrap were defined separately. A splint was referred
 to as a cast and strapping material used for reductions of fractures and dislocations. Braces were defined as external devices that dealt with musculoskeletal
 system. Since they are all artificial external devices serving to support the limbs or spine or to prevent or assist relative movement, splints, braces and wraps
 have transitioned to be referred to as orthoses.
An orthosis is an externally applied single, rigid or semi-rigid device that supports a weak or deformed body member. It's used to modify the structural and 
functional characteristics of the neuromuscular and skeletal systems.
Uses of orthotics:
Orthotics such as casts, splints, braces are used during therapy or treatment of various musculoskeletal impairments.
Functional bracing is based on the concept that continued function during the fracture healing phase promotes osteogenesis (bone growth) and enhances 
soft-tissue while healing.
These uses include:
Assist movement generally / Increase mobility - When a person has undergone amputation of the leg, they are unable to walk for a period of time, say around three months. During recovery, the individual will need training to start walking again. Orthosis devices will be helpful in mobilization from one place to another.
Protect and support an injury-  Braces stabilize, support and limit range-of-motion of joints. For people who are prone to ankle injuries, braces are used to immobilize injured ankles or provide joint protection to injuries.
Control, limit and immobilize an extremity, joint or body segment - For example someone got into an accident and broke their spine badly which means they cannot perform some activities due to the extremity of the injury, they will need therapy after healing to control their movement and get guidance from an orthotic or physical therapist how to walk again, bending, turning, among other daily routines.
Restrict movement in a given direction - Sometimes an accident can occur and cause a patient to have an injury on one side of the body which becomes painful and sensitive. A doctor can diagnose the patient to get braces from an orthotist so that if it's the neck that is injured, he can be able to restrict turn which might to extreme pain or affect the nerves and muscles. Complete immobilization with any orthotic device should be avoided because of the risks of deconditioning and muscular atrophy.
Other uses include:
Increase independence 
Control biomechanical alignment
Reduce pain 
Correct or accommodate deformity
Orthotic designs vary because every person has a different type and shape of both leg and arm. They can be classified into the following categories:
Off-the-shelf Orthotics. These orthotics are not customized to your feet. They provide a very basic level of support.
Customized Soft Orthotics. They provide cushioning support to minimize injuries hence they're made of soft materials such as foam or silicone. Mostly used by patients who suffer from severe arthritis or structural deformity.
Customized Hard Orthotics. These devices are made of carbon fiber or plastic and have an added soft cover to full length or full-length orthotics. This type of structure is used to limit the movements of the foot joints.
Types of orthoses
There's a whole multitude as pertains orthotic devices. Let's dig deeper, shall we?
Spine Orthotic/ spinal orthosis - to correct or control spinal deformities and injuries and to provide immobilization or support to spinal injuries.
Hand and Wrist Splint and Brace - it is commonly used by persons with Carpal tunnel syndrome which causes pain, tingling, and numbness in your hand from pressure on the median nerve in your wrist. During sleep, most people bend their wrist and this puts pressure on the median nerve. The hand and wrist brace will help by keeping the wrist in a straight neutral position.
Hip and Thigh Brace - this is a padded pelvic band with a lateral extension toward the greater trochanter connects to a thigh cuff by a metal upright. Used to keep hip in slight abduction while limiting hip flexion/extension.
Arm/Shoulder Supports and Braces - A fabric sling with a strap around the neck that positions the elbow in approximately 90-degree flexion across the chest. Used for comfort and gentle support of the shoulder and upper extremity.
Elbow Splints and Braces - they are used after treatment of an injury to allow early movement without damaging the healing tissue and to reduce edema and pain in the inflammatory phase.
Finger and Thumb Splints and Braces - these braces are designed to help with the healing of swollen, weak and damaged joints and thumbs, along with other conditions as well.
Fracture orthoses - the modern alternative to plaster or fiberglass casts. It is designed to support fracture instability during the healing process.
Knee Orthosis (KO) Brace - a full leg length device that stabilizes the broken bone either lower femur (thigh bone) or upper tibia (shin bone) and allows it to heal in the proper position. This type of braces are commonly found in GM Medical company who make sales on pre-orders to allow customization of orthotics for their clients.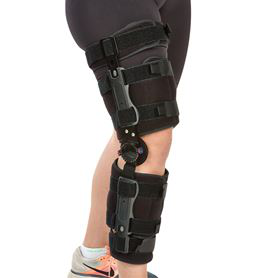 Ankle Foot Orthosis (AFOs) - it's a support intended to control the position and motion of the ankle, compensate for weakness, or correct deformities.
Knee-Ankle-Foot Orthoses (KAFOs) - A thermoplastic shell that encompasses lower leg, ankle, and foot. Used to improve mobility, support rehabilitation, and biomechanical goals.
Foot Orthoses (FOs) - they're used for various foot, leg or postural problems.
Ankle Orthoses (AOs) - AOs are commonly used for joint protection, pain reduction or support after undergoing surgery.
Cervical orthosis - Foam cylinder with a cloth cover that secures with Velcro around the neck. Used as a kinesthetic reminder to limit neck movement for injuries that do not require rigid cervical fixation.
Cervical Thoracic Orthosis (CTOs) - The patient or caregiver should have a good working knowledge of the function and purpose of the device, as well as the ability to don and doff the device.
Short leg walking boot - Prefabricated, bivalved, hard, plastic outer shell with foam-filled air cells that encloses the foot and lower leg below the knee with a plantar surface that has a non-slip rubber grip. Used for conditions that allow weight-bearing but require immobilization.
Learnt something new, right?  There's more coming…
Here are some of the conditions that might result in the usage of an orthosis, splint or braces:
Metatarsalgia or other foot pain
Plantar fasciitis [[]]
Morton's Neuroma
Flat feet
High arches
Knee pain
Hip pain
Low back pain
SIJ dysfunction
Degenerative Disc Disease
Scoliosis
Osteoarthritis in the knees, hips, pelvis or low back
Patellofemoral pain syndrome
Femoral acetabular impingement
Iliotibial band friction syndrome
Bursitis in the ankle, knee or hip
Chronic ankle sprains
Piriformis syndrome
Achilles tendinopathy
Patellar tendinopathy
Snapping Psoas
Gluteal tendinopathy
Hamstring tendinopathy
Recurrent Calf Strains
Is there a difference between prefabricated orthosis and custom-made orthosis?
A prefabricated orthosis is an externally applied device that is pre-made and is subsequently modified to meet the specific needs of the client and ensure the treatment goals are met. Prefabricated orthoses are often prescribed for short term use or in the case of non-complex clinical presentations. A variety of health practitioners are involved in fitting a small range of prefabricated orthoses, however, orthotist/prosthetists are the only health professionals qualified to fit orthoses to the entire body.
A custom-made orthosis is a highly specialized device that is manufactured from a cast or mold of the individual client. It is not able to be fitted to another person, as it has been designed and manufactured to meet the specific needs of the individual. Whilst selected health practitioners provide custom made orthoses for either the foot or the upper limb, only orthotist/prosthetists are qualified to fit custom made orthoses for the entire body. Therefore, a clinical assessment and consultation by an orthotist/prosthetist will ensure that your entire body or limb segment is assessed and the full range of orthotic treatment options considered.
So far so good? I believe we have an idea of what these orthotic devices are and if we understand the next step, getting splints and braces according to our needs will be a walk in the park…
Consider these features when you're choosing an orthosis for the right condition.
Every patient or caregiver should have a good working knowledge of the function and purpose of the device, as well as the ability to don and doff the device. Experts prefer individuals going for custom-made orthotics because they can provide the comfort needed even though they are a bit expensive than the one-size-fits-all version. But please note that this doesn't mean that expensive shoes are always the best option. Some of the features to pay attention to before buying an orthotic device include:
Easy to remove footbed - Accommodative orthotic devices like splints and AFOs take up so much room. If you use this type of orthotic device, make sure that you pick shoes that come with an easy-to-remove innersole or footbed.
Wide toebox - Narrow shoes will only cause problems like bunions or achy and inflamed toes. On top of that, there won't be enough space for your foot once you insert the insole if the toe box is not wide enough.
Minimal torsion/twist - Buy shoes that don't twist easily. Otherwise, you won't get enough arch and base support that your feet need.
Firm density midsole - Touch the midsole and check if it's soft enough. Then, try to put a bit of pressure on it and check if it compresses easily. The midsole plays a crucial role in reinforcing the strength of the orthotic device you will use.
Rigid heel counter - To keep your ankles in the right position when using an orthotic device, your shoes need to have a firm heel. This will prevent the ball of your heels from rolling or slipping away from the shoes even when you walk or run fast.
Wider foot support – A wider footbed means stronger foot support. Along with your customized foot device, a pair of shoes with a wide foot base will help you walk with greater ease.
Low heel - If you need to wear AFOs, it's best to look for shoes with low heels. This will help you ensure comfort while you walk.
Sufficient shoe depth - With enough shoe depth, you can fit an orthotic device with great ease. This will also help you prevent your shoes from slipping off when you run.
You are ready! Get yourself a prefabricated or custom-made orthoses, splints or braces available in Kenya by clicking here to place an order or give us a call and share with us your experiences with the orthotic devices you have been using.
 Sharing is caring! Share what you learnt with those in need of this information.
References:
Karl B. Fields, Katherine M. Walker, in Clinical Sports Medicine, 2007
Cathy S. Elrod, in Acute Care Handbook for Physical Therapists (Fourth Edition), 2014
https://www.strideshoes.com.au/blog/choosing-right-pair-orthotic-friendly-shoes