Inogen G5 has proven to be one of the most reliable oxygen therapy machines that lets the user reclaim their independence. Being the best-rated portable concentrator, Inogen ensures access to accessories and replacement parts promptly.
G5 weighs 2.2 kgs and is small in size.
This makes it a lightweight machine that can be carried around comfortably. One of the accessories included in the package is a carry bag that makes it easier to walk around with it. In addition to this, it can also be put in handbags for ladies and backpacks so that when in need, one can just access them easily.
Easy to use features.
The buttons and display screen are large in size and easy to read. The settings can be adjusted by a '+' or '-' button. In case there is an issue with the machine, there is a warning that goes off with orange light.
This can happen if the power has gone off while G5 was still in use. It can also occur when the oxygen purity goes down below the required percentage. The warning sign can also alert the patient when the cannula is not tightly connected hence causing a leakage while breathing.
Delivery of oxygen through pulse dose technology.
This means that the patient will receive oxygen when they breathe in. Since the Inogen doesn't have a bulky compressor, it ensures no wastage of oxygen while breathing. Pulse dose is usually working on portable concentrators, unlike the continuous flow ones which have compressors and humidifiers.
Approved for in-flight use.
Patients don't have to give up flying if they're on oxygen therapy. The Federal Aviation Administration (FAA) has approved the usage of G5 while traveling locally and internationally as carry-on luggage.
This factor has really benefited users on oxygen therapy throughout and needs to move from one area to another. The battery life can last enough hours during a flight.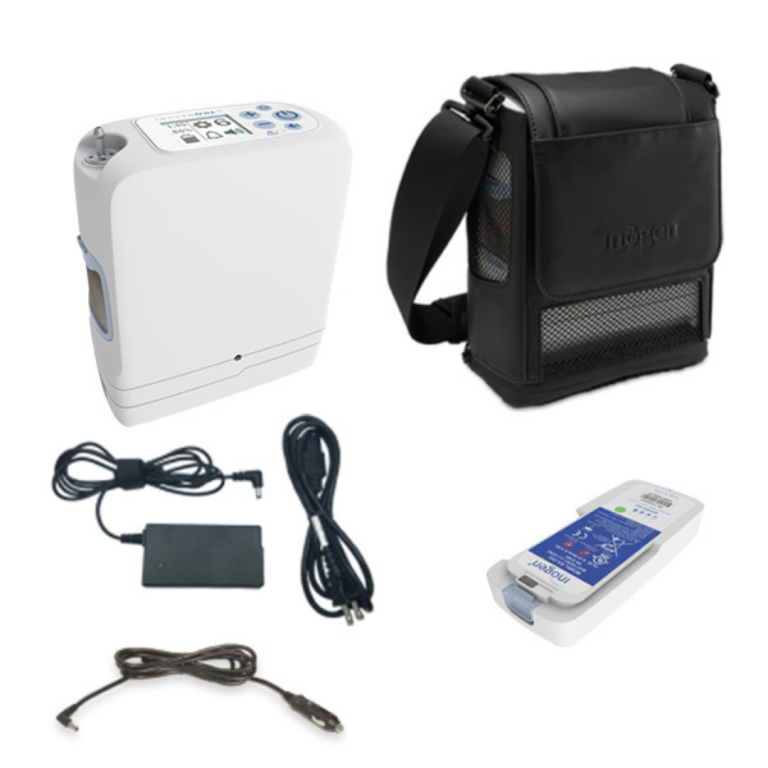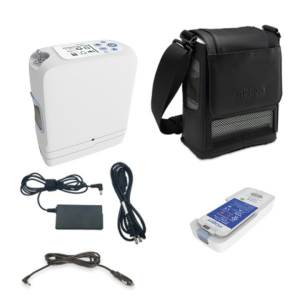 G5 can easily be shipped.
It can be shipped both by air and sea both locally and internationally unlike the oxygen tank. Due to this advantage, it makes it more preferable to users. In addition to this, even accessories can be shipped in case the patient needs replacement or the addition of extra parts such as batteries, and filters, among others.
High output.
The oxygen flow setting is 1 to 6 liters per minute. Most POCs supply up to 5 liters per minute so the Inogen G5 is more reliable. In addition to that, it has durability and safety.
The long life span of the backup battery.
The battery duration of a fully charged double cell backup battery is 13 hours while using 1 liter per minute. The more oxygen capacity that is consumed by the patient the lesser the battery duration.
Bluetooth Connect Technology.
Another advantage of Inogen as compared to other portable oxygen concentrators is the Bluetooth technology feature. You can keep track of your oxygen purity and have access to your data regarding usage using the Bluetooth Connect feature.
In Conclusion.
Have you been looking for an oxygen therapy option that does not limit your freedom? For years, patients have had to use tanks that are bulky and need refilling.
Ambulances have also been used for moving patients on oxygen from one place to another and sometimes their rates are straining especially for a one-time situation.
We saw this need and decided to liaise with G5 to improve the lives of those in need of oxygen supply. As GM Medical, we pride ourselves in being the local distributors of the Inogen G5 to both medics and users at affordable prices.
Other benefits include after sale services such as warranties, annual servicing, and maintenance as well as fixing and repairs when the need arises.
Looking to attain freedom in your breathing and access oxygen anywhere, anytime? Talk to us today and let's see what works best for you. We offer training on how to use the machine and deliver countrywide.
You can reach us via email on sales@medical.ke or phone +254722932625

We got you covered!