DC-N3 PRO
DC-N3 Pro has advanced features that raise the bar amongst similar competitive ultrasonographic systems. It redefines the base when looking for versatility, high image quality, and of course, pocket-friendliness.
DC-N3 Pro Colour Doppler System provides the user with a user-friendly experience while working with it, considering it gives reliable diagnostics. In addition to this, it comes with software that ensures faster and more efficient diagnosis results. This ultrasound machine has a trolley with an adjustable control panel that enables it to be moved and positioned as per the user's need.
Mindray DC-N3 Pro ultrasound machine is a high-end 3D/4D machine for foetal purposes. It is intended for Abdominal, Vascular, Transcranial, Paediatrics, Small Parts, Anaesthesiology/Musculoskeletal(MSK), Urology, Women's health care, OB-GYN, Echocardiography adults and paediatrics application.
The probe connectors are compatible with compatible with limited vascular transducers for quality imaging. Here are a few basics regarding the ultrasound machine.
Highlights:
Image Enhancing Features
iClear brings you a clear vision of the images by suppressing the speckle patterns.
iLive used for foetal images to give realistic views with human skin-like images.
iBeam for scanning from multiple angles to produce one image using spatial compounding.
iPage is included to provide CT-like display of volume data and provide multiple tomographic parallel slices.
Natural Touch Elastography is used to evaluate tissue stiffness sensitivity, distinguish benign and malignant mass in applications such as GYN, breast and thyroid.
Performance Features
Velocity or Tissue Doppler Imaging (TDI) and free Xros CM.
MedSight feature that provides you with top-notch connectivity.
Auto Intima-Media Thickness (IMT) measurement which constitutes reliable delivery of carotid analysis by automatically detecting and calculating the thickness.
Realistic 4D imaging rendering mode and multi-slice imaging.
iPower. A built-in battery that ensures there's real-time scanning.
iRoam. A built-in wireless connector.
Has 3 probe ports and 1 additional optional port. It's compatible with curved array probe, endocavity probe, phased array probe and linear array probe.
Handles on the screen that enable easy swivelling and pivoting.
Product Details
180° rotatable HD monitor
Weight capacity is 62kgs
Colour doppler and power doppler
Monitor display is 15" with 2D Imaging
Rechargeable battery lasting 1 hour when fully charged
Modes: M-mode, Trapezoidal mode, Anatomical M-mode and M-colour Flow mode
Dopplers: Colour, Power Angio, Pulse Wave Doppler and SCW Doppler
Other Product Details
Relaunched in 2014 with image size resolution of 640 by 480.
Monitor can be tilted or rotated but not a touch screen.
Has a trackball for scrolling.
Has a CP Back-Lighting
Comes with independent steer and lockable wheels
Flexible report and Barcode Reader
The Mindray DCN3 is bulky with an optional cart as shown on the image below.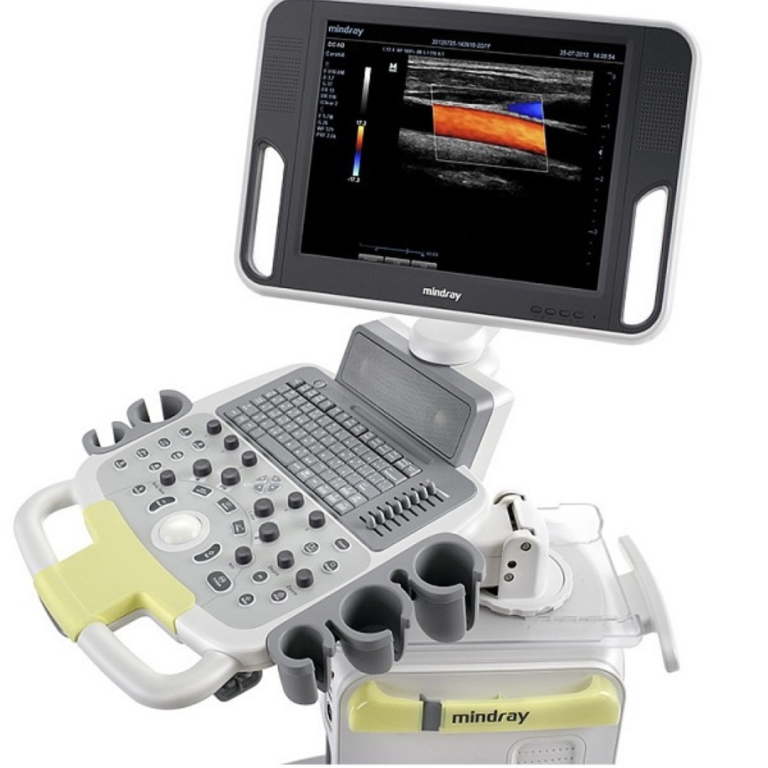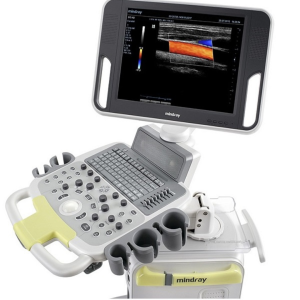 Conclusion
Mindray as a brand has gradually improved patient care over the years by providing advanced equipment such as dc-n3 Pro. In addition to this, they supply affordable equipment and this factor protects your investment. Innovative solutions give exceptional services to clients for the sake of providing highest level of patient care using Mindray. Diagnostic confidence is assured for DC-N3 users, both sonographers and patients.
GM Medical prides itself in offering reliable and practical equipment that come with training on how to operate these high end innovative Mindray products. Issuing warranty to clients helps build confidence in getting the sonography machines such as Mindray dc-n3 pro from our shop.
We deal  with various Mindray radiology and lab products. There are qualified biomedical engineers who take you through training to understand about operating the machine.
In case you would like to discuss further and learn more, please feel free to reach us on call/whatsapp +254722932625 or email sales@medical.ke