RAPIDPoint 405 Blood Gas Analyzer
Overview 
Rapidpoint 405 system is a point of care testing machine. It is one of the best blood gas analyzers in the market.  One of the reasons is because it ensures immediate test results for a patient.  Rapidpoint system also helps the clinician be able to determine the patient's issue and offer treatment in real-time. Since it issues results very fast, that's one of the factors that make it a common choice among lab technicians. In addition to that, the accuracy of test results makes it a great choice for sonographers as well. 
Rapidpoint 405 system offers safe and secure reliable and fast results.  they are hard-working and very common for blood gas analysis. The machine is portable and able to perform flexible tests on patients as it is specially designed for critical care.  it is very popular because it brings effective lab-quality testing and gives accurate results.
Features;
The main focus for a lab technician dealing with blood gas analyzers is usually accuracy and turnaround time and the RAPIDPoint system offers just that!
Vital stat values and parameter listing include;
Blood Gas ( pH,  pco2,  PO2)

Hematocrit

Metabolites 

Electrolytes ( Na+,  K+, CI-)

CO-oximetry (HHb, sO2, O2Hb, tHb, COHb, MetHb)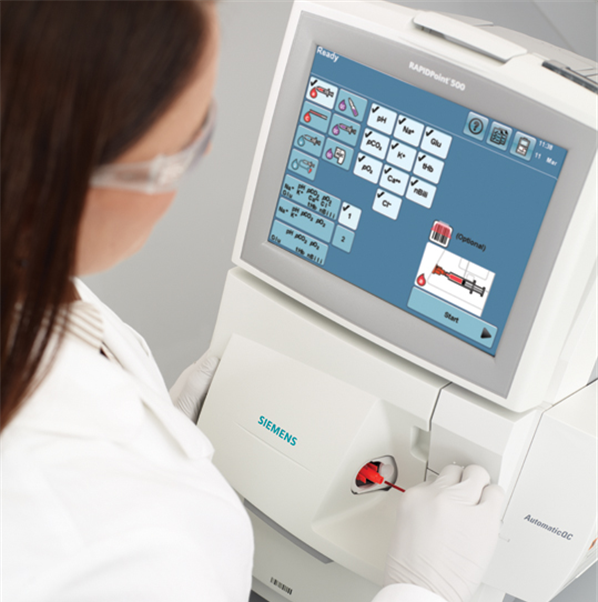 Applications for the RapidPoint POC System
Rapid point analyzer has advanced software that enables the clinician to analyze the samples recall the system data status and be able to access help.
It is also used for manual calibration either 1point, 2point or 4point calibration.
The blood gas analyzer has an automatic quality control system which helps one to evaluate and get effective results.
The machine is able to perform pre-analytical sample handling for the gas samples promptly and deliver adequate results.
Why buy the Siemens RAPIDPoint System?
If you are opening up her already have a clinic then Siemens Rapidpoint 405  should be your go-to choice for a blood gas analyzer.
Some of the advantages include;
Flexible tests which are done on a single measurement cartridge. 

Maintenance-free operation and easy compliance. 

The analyzer boasts of cost-effectiveness and automatic quality control.

Simple menus guide the user through the analyzer operation.

Quality reserves and rapid turnaround times.

Seamless full integration with the data management system to allow monitoring.

Reliable and easy to use.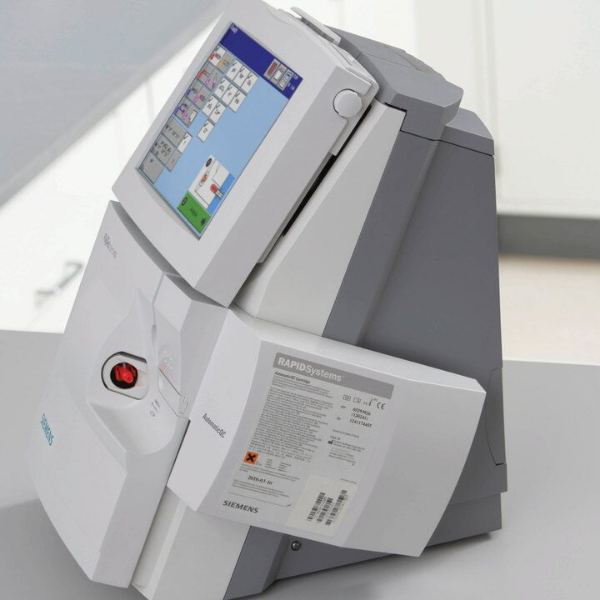 Final Thought
The imprecision of the blood gas analyzer is really high as compared to other instruments and that is the only issue some buyers have had with this analyzer. Otherwise, as for the pH, it gives acceptable bias estimation. As we all know, when you are considering buying an analyzer, you do not only focus on the performance characteristics of the system but rather put your finger on other important factors. Issues like the calibration frequency. sample volume and ease-of-use are of great importance in making decisions. Well, Siemens Rapidpoint 405 blood gas analyzer offers all these requirements accurately for tests carried out. 
At GM medical,   we strive to ensure quality products have been supplied for the sake of customer satisfaction. Please reach out to us in case of any questions via our email sales@medical.ke . Please share your thoughts with us in the comment section below.
Reference
https://www.siemens-healthineers.com/en-au/point-of-care/blood-gas/rapidpoint-400-500 
https://www.thailandmedical.news/pages/devices_view/rapidpoint-400-405-blood-gas-analysis-system-from-siemens 
https://www.siemens-healthineers.com/en-au/point-of-care-testing/featured-topics-in-poct/blood-gas-featured-topics/blood-gas-educational-content#General_Lab_Training