SPERMCHECK
Have you been trying to get pregnant? Here's a solution.
Spermcheck Fertility tesk kit is a home test for men that is used to detect the concentration of sperm in semen.  It is a home screening kit that indicates whether the sperm count is normal or low. 
This concept of fertility test is a quick response for checking fertility. The test is very easy to use actually provides fast and easy to read results. A normal sperm count should be 20,000,000 but for a male with low fertility, the sperm count is below this range. It is a very simple screening technique that quickly lets you know if your sperm count is within your normal limits well the average man cycles on his promise about 90 days underneath trying to conceive it's very important to test his Contacts three months and his pump count is affected by many factors. 
Studies in the recent past have shown that approximately 50% of all the infertility problems are attributed to the male and most of them are really because of low sperm count. More than 10 millions couples try to conceive annually but only 4 million of them will be successful. The rest who range at 7 million usually have fertility issues and at least half of these cases are directed to the male gender. 
The Factors Affecting Sperm Count I

nclude

;

1.Body weight. This will affect the sperm count in your body if you are an obese person then his background tends to be low

2.Drug abuse. Smoking drug or alcohol and drug abuser then this prompt computer be available drugs tend to limit the sperm productivity.

3. Climate. Very hot places or very cold places tend to affect their sperm count in the man's body system. Very cold weather conditions are very hush in freezing this plant not in the same and will reduce hence the fertility decreases.

4. Stress. Stress is a common factor that causes the sperm count to lower.

5. Environmental Causes.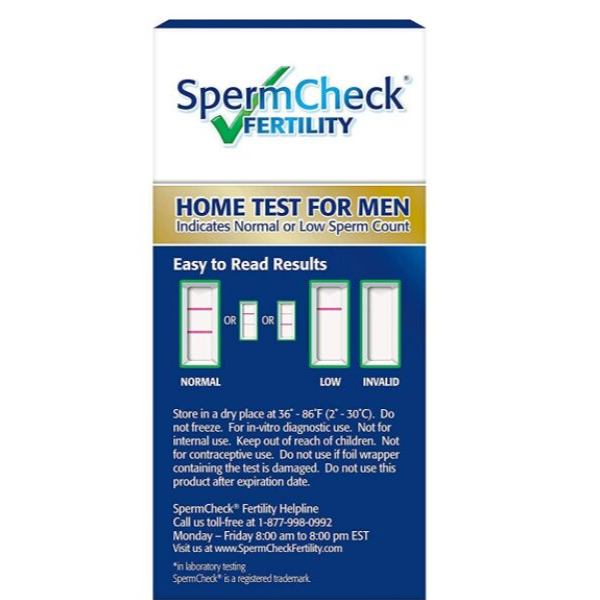 How Does a Spermcheck Fertility Work?
Procedures vary for transferring semen and completing the test but results are typically available in as soon as 10 minutes. SpermCheck Fertility sperm screening is easy to use, providing fast, easy-to-read results. The test kit comes with step-by-step instructions on how to use it. Similar to a pregnancy test, it uses colored lines to inform you if there is normal or low sperm count. The man opens the kit then ejaculates into a collection cup. A semen sample is placed in the solution bottle provided and the two are mixed. The drops of the mixture are placed in the testing device, which measures the sperm count level in the sample. All the contents needed for testing are in the package. The patented process of sperm detection is made possible by a protein, found exclusively in the head of mature sperm.
In just minutes, the results indicate a normal (positive result) or below normal (negative result) sperm count.
Conclusion
In a study carried out by the department of urology at the University of Virginia in 2010, it showed that SpermCheck Fertility was highly accurate in predicting whether sperm count was high, very low, or intermediate between these two threshold values. Fertility or infertility obviously cannot be predicted on the basis of sperm count alone. Nonetheless, a home diagnostic that provides accurate and reasonably precise information on sperm count is of value to couples concerned about their ability to conceive. It is important to note that SpermCheck Fertility is an over-the-counter home test rather than a clinical test. It is intended as a front-line self-diagnostic to direct men to the fertility specialist. This home test kit is intended for use by men of all ages who have no present knowledge of their fertility status.
In summary, SpermCheck Fertility is a simple and reliable immunodiagnostic test that is able to inform men as to whether their sperm count is normal, low or very low. The home screening helps partners in deciding whether to seek a comprehensive clinical evaluation of the fertility status of the male partner.
References;
https://www.mayoclinic.org/diseases-conditions/low-sperm-count/expert-answers/home-sperm-test/faq-20057836
https://www.ncbi.nlm.nih.gov/pmc/articles/PMC2839906/
https://www.webmd.com/infertility-and-reproduction/guide/male-fertility-tests#1