X-Ray 300mA Digital Machine
The X-ray machine is used by radiographers during surgeries to visualize bone structures for orthopedics and helps to locate blocked arteries by cardiologists during angioplasties. The x-ray comes with a stationary anode x-ray tube assembly that has a filament voltage regulator and space charge compensator. It has meter-indicating as well as a single-table tube. 
Features

Digital 300mA X-ray Machine

Power supply: 440V
Frequency: 50-60Hz
Large Focus: 300-300mA
Small focus: 100mA
Fluoroscopy: 3.5mA/100kVP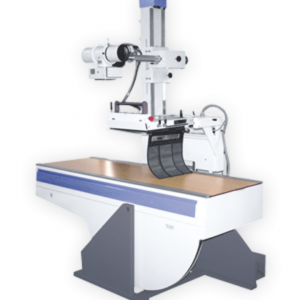 Description;
High-Frequency X-ray Generator
Maximum KVp is 125 and maximum mA is 300, which means that it should have 300mA at 100KVp. Hence the 300mA machine we're selling :). 
X-ray Tube
Anode is rotating one with a heat capacity of 115KHU and a speed of 2800 RPM at 50Hz.
Radiography
Te x-ray machine has a KV that ranges from 40 to 125 at 1KV per step. For the focus, small focus ranges between 80-160 mA and of course, the large focus between 160 to 300mA.
Control Panel
Digital display call radiography parameters. The panel should have an exposure time. and the KV/mAs usually increase or decrease. in addition to that, it has an automatic voltage compensator and an automatic tube overload protection.
Table Specifications
The table is horizontal because of the procedures carried out. it has a movable grid type which is aluminum interspaced with a minimum ratio of 6:1.  We should also note that the cassette tray is of stainless steel,  and out of centers with a cassette lock which accommodates all sizes of cassettes. another thing is that the bucky is able to travel the entire length of the table. The top part is radiolucent with negligible x-ray absorption,  stain-free,  break-resistant, and definitely waterproof.  Finally,  the compression band hungry footstep and a footrest are provided. 

Mechanical Specification
300ma x-ray machine comes fully counterbalanced and is easy to move around and handle. Also has a pair of high-voltage cables which are at least 6 meters long and this will enable you to move it around depending on the distance of the patient during an examination. The hands which is extended with a cable for the sake of x-ray exposure.  There's a light beam diaphragm collimator.  The x-ray tube head can be rotated up to 360 degrees and to top it off  it has a floor to ceiling tube stand.
Those are details of the x-ray machine available in stock. You can get in  touch with us for any further assistance on our email sales@medical.ke. 
GM Medical, we got you covered!
Sources Library
https://www.neighborhoodrad.com/2017/11/21/when-should-i-see-a-radiologist/
https://www.medical.ke/equipment/radiology/
https://www.radiologyinfo.org/en/info.cfm?pg=safety-xray