FTS-3 Fetal Telemetry System 
FTS-3 fetal telemetry system is a fetal monitoring device that uses sound wave technology without wires to track the baby's heartbeat. It is an external electronic fetal monitor that provides continuous, accurate, and seamless monitoring. This is to keep a record of the baby's heart tones for antepartum and intrapartum clinical needs. The device is a wireless monitoring solution that is flexible and convenient for mothers and obstetrician caregivers. 
Features
Cordless waterproof probe for water delivery

Base station with in-built antenna

Dual color OLED display

Unique twins FHR monitoring 

Highly sensitive 12-crystal FHR probe

Automatically probe identification

Freedom of movement for the mother

Rechargeable battery that is long-lasting
Standard Configuration 
FHR

TOCO

AFM

Li-ion Battery
F6 Fetal & Maternal Monitor 
F6 is used to record the heartbeat of the fetus and the maternal uterine contractions during labor. 
 Features
Central monitoring system 

24-hour backup memory

Digital LED Display 10.2"

Z-fold thermal paper recorder 

PW Doppler Mode

Rechargeable lithium-ion battery

Power supply - 100V-240V

Dimensions - 347x330x126mm

Weight - 6kgs
Standard Configuration
TOCO

MFM

AFM

FHR1 and FHR2
F9 Fetal and Maternal Monitor 
F9 is used to provide solutions for antepartum, intrapartum, and postpartum clinical applications. Compared to other monitoring systems, it gives a much better connection and monitoring solution that allows varied clinical needs such as non-stress testing. 
Functions
Twins FHR

Fetal movement 

Uterine activity 

Intrauterine pressure

Multi-display modes 

Maternal SpO2, ECG, NIBP, and TEMP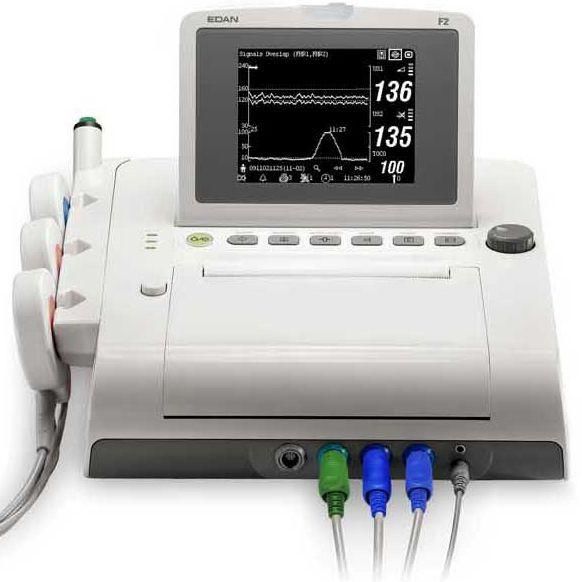 F2/F3 Fetal Monitor 
These are twin monitors that provide both invasive and non-invasive monitoring of the fetus during the antepartum examination, labor, and delivery. It is used in labor/delivery rooms and other obstetrical departments to offer a wide variety of fetal care monitoring parameters including fetal movement. The screen provides a large numeric and graphic display for ease of readability. The F2/F3 fetal monitors also come with PC management software and optional IUP parameters.
Features
Wired and wireless central monitoring system 

5.6" Foldable display screen 

Weight approximately 3.5kgs

Remote event marker 

100V-240V power supply

Rechargeable li-ion battery

Built-in thermal dot-matrix recorder

60-hour backup memory

Z-fold thermosensitive paper

PW with Autocorrelation

USB/Ethernet data transmission mode 

8-crystal transducer
Standard Configuration
Final Thought
There is an extensive variety of fetal monitors by Edan that offer enhanced functionality for monitoring the fetus during pregnancy. Some are portable and home-based while others require professional assistance while using them. all in all, we offer them because as GM we aim to bridge the gap by providing high-end medical devices. For mothers and caregivers, we recommend the F3 fetal monitor for home/office use and continuous monitoring. You can reach us via our email sales@medical.ke or give us a call and we will advise you further on what works best for you.
please, leave a comment below with suggestions, inquiries, and feedback. Remember, at GM Medical, we got you covered!