The Philips CX50 brings a new level of image technology designed for big system performance and critical study requirements.
PureWave technology represents the biggest breakthrough in piezoelectric transducer material for the last 40 years.
The ultrasound machine is 85 percent more efficient compared to other piezoelectric material which results in exceptional performance.
In addition to this, the technology allows excellent detailed resolution and improved penetration with a single transducer in technically difficult patients.
The CX50 offers analysis and assessment capabilities with MicroVascular Imaging (MVI), Strain Qualification (SQ), Cardiac motion quantification with speckle tracking technology (CMQ), Intima media thickness evaluation (IMT), Region of interest (ROI) and GI 3D quantification (GI 3DQ).
Applications
Adult cardiac
Adult transesophageal
Stress echo
Abdominal
Pediatric
Vascular – carotid, arterial, venous
Abdominal, vascular access, intervention
Transcranial Doppler
Fetal echo
Obstetrical
Gynecological and fertility
Small parts
Breast
Musculoskeletal
Emergency medicine
Regional anesthesia
Intervention
Laparoscopic
Surgery
Intraoperative – vascular, epicardial
Intracardiac echo
Contrast
Wireless and Wired DICOM
The wireless and wired DICOM allows for connectivity in any environment with a system that features a high-resolution monitor with excellent viewing and allows you to quickly begin your studies with fast system start-up even in the most difficult portable environments. Data can be exported using USB media and DVD with an integrated DICOM viewer.
Portable Ultrasound
The portable ultrasound allows for fast action when it is needed, getting high quality diagnostic data with diagnostic confidence wherever it is needed. the device can be taken to patients in the PICU, NICU, OR, ED, screening events, satellite clinics and in labor and delivery. The compact device of the portable ultrasound machine makes it an ideal choice in places where speed is limited.
Features
15" high-resolution monitor
1 transducer port
1 pedoff port
AutoSCAN image optimization
iSCAN intelligent optimization
Advanced XRES adaptive image processing
Expanded field of view
Active native data
Live compare
SmartExam protocols
PureWave crystal technology
Active Native Data
Live Compare
IntraCardiac Echocardiography (ICE) imaging
Cineloop review
160 GB hard drive space
Internal slot-load CD/DVD RW drive
Comprehensive measurement tools
One three-lead ECG input
2D ICE
Abdominal
Abdominal Vascular
Acute Care
Adult Echo
Cerebro Vascular
Contrast General
Contrast Superficial
Digital Navigation Link 2D
Digital Navigation Link 3D
DICOM Networking
DICOM Structured Reporting
SonoCT
PureWave Crystal Technology
xMatrix Array Technology
Exam Protocols
Grayscale Freehand 3D
Integration Mode
Live 3D
Live xPlane
Live 3D TEE
LVO Contrast
Musculoskeletal
Needle Visualization
OB/GYN
Pediatric Echo
Pediatric Radiology
Peripheral Vascular
QLAB 3DQ
QLAB 3DQA
QLAB 3DQ GI
QLAB IMT
QLAB MVI
QLAB MVQ
QLAB ROI
QLAB SQ
QLAB CMQ
Regional Anesthesia
Small Parts
Stress
TDIIntegrated intervention with Philips Allura X-ray systems
Mobility cart
Multiport adapter
Wheeled travel case
The system is an ideal solution for distant clinical locations because of its convenient travel case and multiple-site support. It can easily be used as a mobile service, in screening events and satellite offices for premium imaging.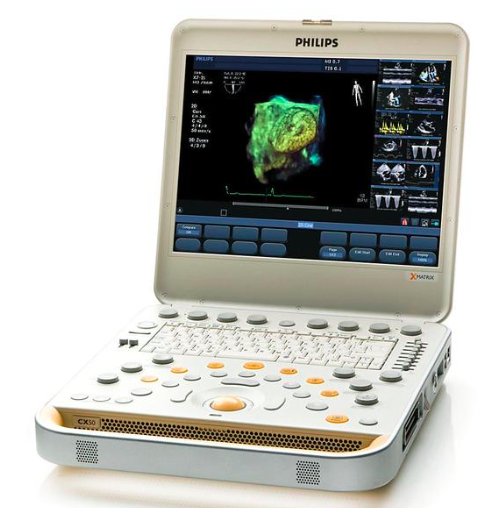 Would I buy this ultrasound?
I am glad you asked... but I would not.
In Kenya, unlike in other countries, Phillips ultrasound machines when they have a problem or you get a new probe, you have to contact Phillips to get a software key before their machines can accept the new probe or part - at a hefty cost.
I would go for a machine like Mindary or GE machines.
With that said, we can get you refurbished or probes for this machine but for a brand new one, contact local Phillips and good luck if it ever developed an issue or needed to add a probe.